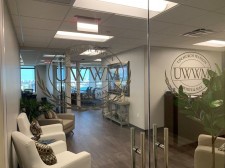 UWWM is taking dispute resolution to new heights across the state. The group, which recently celebrated the opening of its new Miami office, continues a years-long quest to enhance conference facilities and further develop its panel of quality neutrals.
MIAMI, March 2, 2020 (Newswire.com) - ​Upchurch Watson White & Max Mediation Group recently moved its local office from Flagler Street to a new home with panoramic views of Biscayne Bay and celebrated the office's grand opening with a reception on Wednesday.
The new 3,449-square-foot office is in Suite 2030 of One Biscayne Tower at 2 Biscayne Blvd. It has two large conference rooms and six smaller break-out rooms, as well as workspace for the group's two on-site staffers, Cristal Galvez and Alejandrina Perdomo.
Mediators are already resolving important matters there, from complex disputes to the more commonplace conflicts that can disrupt a business or a life. The significance of their practice is mirrored by the building's imposing place in the city's history.
"It is the aim of the firm to provide an attractive, comfortable environment for our clients while mediating with us," said John Upchurch, UWWM's president and CEO. "This beautiful, new facility in one of Miami's most prestigious office buildings certainly meets that objective, and we are proud to call it our new Miami home."
One Biscayne Tower is described as a signature building of Miami, containing 39 floors and standing 492 feet tall. When completed in 1972, it became the city's tallest building, besting the Dade County Courthouse, which held the record for 44 years. It only took 12 years for the Southeast Financial Center to become the new record-holder, and growth has continued apace since then. Many of Miami's newer skyscrapers are taller, but One Biscayne is still a symbol of the city, appearing often on postcards of the skyline.
"The building appears in a July 1973 article of National Geographic titled, 'Cuba's Exiles Bring New Life to Miami,'" says beyondsquarefootage.com, a website dedicated to exploring Miami's distinctive architecture. "It was designed by Cuban architects Humberto P. Alonso, Pelayo G. Fraga & Associates and E.H. Gutierrez & Associates. The architects received a 1973 Outstanding Concrete Structure in Florida award." Since then, One Biscayne has won five Office Building of the Year (TOBY) Awards, including the 2007 Miami-Dade TOBY Award and the 2007 BOMA Southern Regional TOBY.
Upchurch Watson White & Max's history in Miami dates back decades, as well, since UWWM mediators have long worked in "ready-to-go" office space locally. Significantly, the group completed the build-out of a mediation center in nearby Plantation and satellite space in Miami and made temporary arrangements for conference space in West Palm Beach in late 2013. UWWM opened the doors on permanent offices in Miami, in the historic Biscayne Building on Flagler Street, and West Palm Beach in early January 2015.
For more information about mediating in UWWM's new Miami office, please see the location page or call (305) 266-1224.
About Upchurch Watson White & Max
A nationally leading mediation specialty firm, Upchurch Watson White & Max is known for facilitating reasonable agreements to resolve complex issues. From 11 offices in Florida and Alabama, more than 40 state Supreme Court-certified attorney mediators with wide-ranging specialties serve as court-appointed and privately employed mediators, arbitrators and third-party neutral case managers, implementing innovative methods of alternative dispute resolution across the country. On the web: uww.adr.com.
Media Contact:
Catherine Klasne
(386) 253-1560
cklasne@uww-adr.com
Source: Upchurch Watson White & Max Mediation Group
Share: