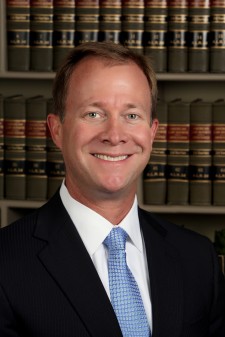 Brevard County Native to Resolve Disputes Statewide
DAYTONA BEACH, Fla., August 2, 2017 (Newswire.com) - Scott Baughan, a 25-year civil litigator and native and resident of Brevard County, Florida, has joined Upchurch Watson White & Max's panel of dispute resolution professionals.
Just prior to becoming a full-time mediator at the end of July, Mr. Baughan was a partner with Moore Eavenson Baughan PLC, also in Brevard. His career experience comprises many hundreds of litigated matters, including numerous jury trials, arbitrations and appellate proceedings as lead counsel. He also has represented both plaintiff and defendant in hundreds of mediations for tort cases ranging from death and catastrophic injury to soft tissue injury, with a heavy concentration in medical malpractice cases. He also counts numerous employment, federal civil rights, insurance disputes, complex commercial and construction cases — including specialized health care related litigation — among the matters he has handled. Those also include anti-trust and billing disputes and practitioner credentialing issues.
"We are extremely pleased to welcome Scott to our panel. His distinguished legal career, including many years of experience as an occasional mediator, speaks for itself. Moreover, his even temperament and sensitivity to both attorney and client interests are important qualities for effective mediation. We are honored that he chose to join our ranks," said Terrence M. "Terry" White, a founding principal of the firm.
Mr. Baughan was certified by the Florida Supreme Court as a circuit civil mediator in 2005 and looks forward to a rapid expansion in his dispute resolution practice. He plans to offer his services throughout the state, in keeping with the practice of many of his fellow Upchurch Watson White & Max mediators. 
"I believe that I have the background necessary to be effective in bringing parties together to reach settlement," he said. "I know exactly what it feels like to be in either camp," plaintiff or defendant.
For more information about Mr. Baughan, or to schedule a mediation with him, contact his case manager, Paulina Carrasco, at pcarrasco@uww-adr.com or (386) 253-1560.
About Upchurch Watson White & Max
A nationally leading mediation specialty firm, Upchurch Watson White & Max is known for facilitating reasonable agreements to resolve complex issues. From eight offices in Florida and Alabama, Supreme Court certified attorney mediators with wide-ranging specialties serve as court-appointed and privately employed mediators, arbitrators and third-party neutral case managers, implementing innovative methods of alternative dispute resolution across the country. On the Web: uww.adr.com
# # #
Media Contact:
Catherine Klasne
(386) 253-1560
cklasne@uww-adr.com
Source: Upchurch Watson White & Max
Share: